---

The avant-garde Citroën DS was introduced in DS19 (for 1.9-litres) form in 1955 at the Paris Motor Show, where 12,000 orders were taken on the first day. By the end of the week, 80,000 orders had been taken.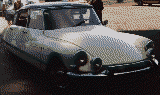 The DS - or Deesse, French for Goddess, as referred to by Citroënthusiasts - has been called 'Car of the Century' by many. Chief engineer Andre Lefebvre's creation certainly was - and still is - a remarkable automobile, especially in its hydro-pneumatic suspension (developed by Paul Mages) which provides the best possible comfort without sacrificing performance, and in its aerodynamically efficient (Cd of about 0.34) and smoothly sculpted body design (conceived by Flaminio Bertoni and Pierre Franchiset). Curves can be taken at high speed safely and straight-line stability is phenomenal. Even in the event of a tire blow-out it will remain controllable, at least for a reasonable amount of time.


One of the many examples showing the design team's attention to detail on this extremely well thought-out vehicle is the rear window, designed in such a way as to prevent any rain drops from falling on it and thus avoiding the need for a wiper (at least when the car is in motion). In fact, so much time was invested into the masterpiece-on-wheels that a brand-new engine design had to be scrapped and the Goddess had to make do with the somewhat-aged (but adequate none the less) 4-cylinder unit from the venerable Traction Avant, mounted at front and driving the front wheels (a rear mounted engine had been considered). Later on more modern powerplants arrived, notably the 2175cc unit which gave rise to the DS21.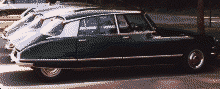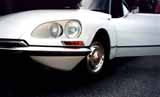 In 1967 the front end of the Deesse was substantially remodelled, prior to this only slight modifications had been made. The futuristic-looking nose now featured pairs of headlights hidden behind glass panels (reminiscent of the Panhard 24CT) but that was not all, the inner headlights turned with the steering wheel.


In addition to the sedan, cabriolet versions of the DS were made from 1960 until 1973. A Parisian coach-builder by the name of Henri Chapron was responsible for most of the 1365 of them. Most were made to Bertoni's design but 289 of them were made to Chapron's own design modification, all converted from ID (a less expensive version of the DS) station-wagons.
Citroën DS21 cabrio. by Chapron. Owner: Gary Cullen, Vancouver.
Production of the Goddess ceased in 1975, over 1.33-million having left the Quai de Javel factory in Paris, France.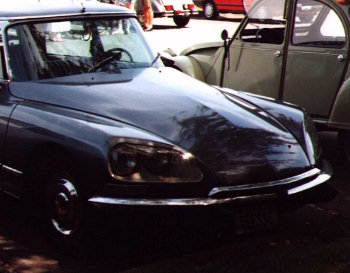 ---