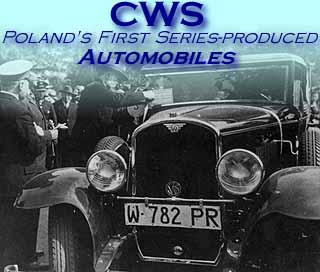 Created on 17 July 1996

In 1918, soon after World War I ended, Poland finally regained its independence after decades of occupation. Multitudes of problems faced the re-born country, the question of automobiles was one of them. The republic inherited a vast disarray of automobiles from liquidated armies of the occupying forces but most of them needed repairs or had outlived their usefullness. Later on some usable automobiles arrived from other countries as part of loans and from relief organisations, but something had to be done with the repairable cars found in the country. In order to assemble an army of any effectiveness, vehicles (mostly automobiles or trucks) would be required. To get the vehicles into running order, the Automotive department of the Defense Ministry set up Centralne Warsztaty Samochodowe (Central Automobile Works) at 34 (later expanded to 34/36) Terespolska street in Warsaw in factory buildings previously used during WWI by the occupying German forces as a service and parts depot. The factory shops then occupied an area of 4758 square metres and contained a few universal machine tools and other equipment.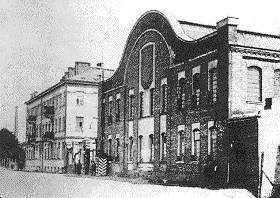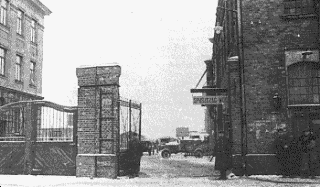 Over the following few years the number of machine tools steadily grew and the man-hours required to repair vehicles and other military equipment rapidly decreased. Also, supplies left by the Germans were running out and there was no way to obtain more. Therefore CWS had no choice but to increase its fabrication abilities and become much more of a production facility than a purely repair outfit. For example, ambulance and armored bodies used on Ford Model Ts were designed and constructed. These converted Fords were employed in defending Poland against Russian agression in the 1919/20 conflict.
In 1919 a Major Kazimierz Meyer, an engineer, became the director of CWS. Kazimierz Meyer had a vision of starting production of automobiles designed and developed by Polish engineers and was in general an enthusiastic proponent of a viable Polish Automobile industry. There had never been a production of truly Polish automobiles and most people were very skeptical, some outright opposed to such ideas. Therefore it would take Major Meyer some time to convince the Defence Ministry to allow CWS to proceed with its plans.
In 1921 the ministry finally gave the go-ahead but only for the developement of an engine prototype, permission to be granted for the developement of a whole vehicle if the powerplant proved a success. The motivated team of engineers at CWS, led by a very talented man by the name of Tadeusz Tanski, immediatelly go to work. Most of the engineers were educated at various institutes in France and some had worked for automobile companies there and other western European countries. A prototype engine was completed in March of 1923 and was ready for testing. The engine, type T1, was a water-cooled 4-stroke 2984cc monobloc unit with a 4.75:1 compression ratio and a power output of 45hp @ 2500rpm. With an aluminum block and pistons, it was a very well designed and constructed powerplant, in no way inferior to those made by competing manufacturers of other countries.
The testing of the T1 prototype engine proved it a great success and caused the team great excitement and optimism, the dream of a truly Polish automobile had come much closer to reality. And so the ministry gave the go-ahead to continue, the great task of designing and developing a prototype of a whole automobile was undertaken in earnest.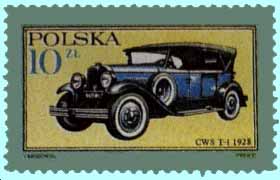 The first prototypes of the CWS automobile, model T1, were completed in 1925 and the testing phase began. These vehicles were construced in the usual ways of the day, front-engined and rear-wheel-driven with a steel-over-wood body (in this case an experimental one designed by Tadeusz Tanski) on a ladder-type frame and with solid axles suspended by semi-elliptic leaf springs. Two T1 prototypes were dispached in that year to the 5th Polish Rally across the country organized by the Automobile Club of Poland. Due to an unexpected problem, one of the cars refused to start and it took 18 hours find a solution, after which it was driven the full distance of the route and managed to catch up to some of the competitors. This was no mean feat as the signs on part of route had already been taken down and all service points closed. The other CWS that took part in the rally made the route without any problems. Accordingly, the drivers (employees of CWS, naturally) of both automobiles and the car-maker were presented with special awards for the great achievement. The Polish press covered the event thoroughly and with great enthusiasm and news travelled across the land. The success of these prototypes caught the imagination of the people, many of whom now shared the dream of a Polish automobile industry.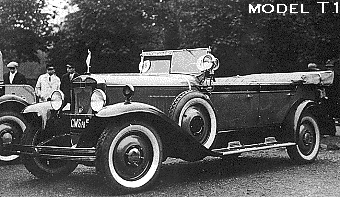 Kazimierz Meyer and his talented team of engineers must have been very proud at that moment and were understandably eager to start production. Unfortunetally CWS did not then have the facilities for full-blown production and it would require a large investment to equip the factory with the appropriate specialized machine tools needed. Also, the delay in starting production was caused by a bit of political turmoil in the country, resentment by dealers of imported automobiles, the emergence of competing Polish companies, and various other reasons.
Finally the dream of making Polish automobiles became a reality in 1927, when a small series of 25 T1s was produced. Many of the components found on these vehicles were indeed sourced from manufacturers in the country, not to mention parts made by CWS itself. The then president of Poland, Professor Ignacy Moscicki, was said to have been one of the first persons to place an order for such an automobile.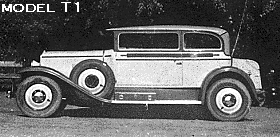 Nineteen-twenty-eight would be the year when CWS officially became a manufacturer of automobiles and full-scale production of model T1 began. Centralne Warsztaty Samochodowe was renamed Panstwowa Wytwornia Samochodow (National Automobile Works), though the marque name remained CWS, and was incorporated into Panstowe Zaklady Inzynerii (National Engineering Works). PZInz, founded in March of that year, was a conglomerate of various Polish companies, including PWS' rival Ursus. The then director of PWS/CWS, Kazimierz Meyer, moved up to the position of director of PZInz at some time after this.
The T1s were very well made, solid, and reliable automobiles, that, for these reasons and better-than-average off-road capability, were also liked by the military. With descent performance and a top speed of 100 km/h, these really were world-class machines. About 500, with various body-styles - such as phaeton, faux cabriolet, ambulance, sedan, and pick-up - designed by engineer Stanislaw Panczakiewicz, had rolled out the factory gates by the time production ceased in 1931.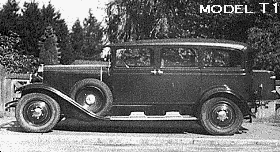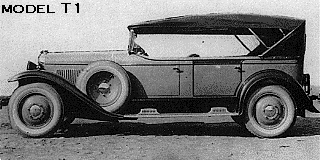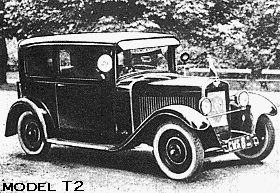 In 1929 work began on two more CWS models, the T8 and T2, which were put into production around the beginning of the following year. The T2 was a smaller and more economical automobile than the T1, probably available with a 2 and 4 door body and powered by a light new 24hp 4-cylinder power unit (type T4) with a capacity of about 1500cc. The T8, on the other hand, was about the same size as the T1 and styled quite similarly. It was powered by a straight-eight 2964cc unit (type T8-1) with an output of 80 to 100 hp, basically composed of two T4 power units. Both of the new powerplants were constructed in similar fashion as the type T1 unit. A total of about 300 model T8 and T2 CWSes had been made by the time production stopped in 1931.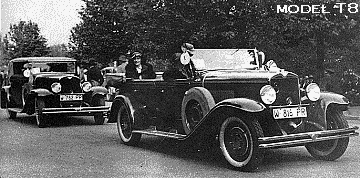 CWS automobiles, the original Polish automobiles made in numbers, were no longer being made after 1931. These well-made automobiles, of great importance to Polish motor history, had done pretty well in motor sport (rallying, that is) and had won numerous Automobile Club of Poland awards for elegance, but this was not enough. The parent company of PWS, PZInz, had decided to abandon the production of these vehicles in favour of producing cheaper ones under license of foreign auto-makers. There were several reasons for this, one being that the high prices of CWS cars, which had always been pretty much hand-made, were not attracting enough customers. PWS had no mass-production capabilities and to change production methods would have been too costly, requiring much more sophisticated and specialized factory machinery.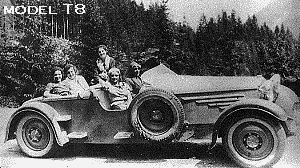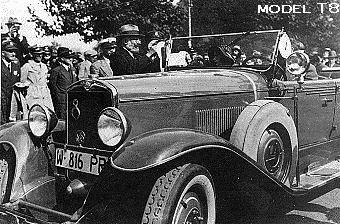 ---

A few years after CWS production ceased, PZInz produced cars and trucks under FIAT license (see the origins of Polski Fiat) and in the mid-thirties began an attempt at making its own automobiles. Click here to see the story.
World War II put a stop to PZInz activities.
---

Copyright &copy 1996, Bolko Rawicz in Vancouver,B.C,Canada.
---
Acklowledgements: Most of the information and images (from old photographs) used for this web-page comes from a wonderful and very detailed Polish-language book called "Poczatki Polskiej Motoryzacji. Samochody CWS", written by Jan Tarczynski. I would also like to thank Piotr Trzeciak for helping me find some information.
---