Truck Builders of Poland: the Years 1928 to 1939
The Polish motor vehicle industry got its start after World War I when the nation once again regained its independence. Numerous makes of trucks and commercial vehicles were produced both before and after World War II, but all of the names are unfamiliar in the West due to the fact that these vehicles were not exported beyond the "iron curtain" or some parts of Asia.
Ursus was the first marque of trucks manufactured in Poland. The Ursus machine shops were originally established in 1892 where a variety of metal fittings as well as stationary engines were built and shipped to Empire Russia.
After the Great War, the 2-ton Ursus Model A was a close copy of the Italian SPA 25/C trucks. All components with the exception of the wiring harness and roller bearings were built near Warsaw in Czechowice starting in 1928 after the military had undertaken tests and allotted financing for such a project. Bearings were still imported, and the trucks' suspensions were reinforced for the terrain and poor road conditions of the time.
Heavier trucks were also built under the name Ursus, and these were copies of the French Berliet CBA trucks. However, lacking the more modem technology of floating axles, shaft drive and pneumatic tires, these were quickly discontinued. Ursus also built farm tractors based on the International Harvester Titan design.
The Ursus Model A truck used a 35hp four-cylinder engine and a 4-speed transmission. The engine was upgraded to 40hp in the second year of production, and a 25-seat bus chassis was also produced as the Ursus Model AW. The small factory produced 884 Model A and Model AW trucks and light buses between 1928 and 1931 when manufacturing was stopped.
At the same time as the Ursus factory went into production, another even smaller firm began manufacturing motor vehicles in Poland under the name CWS (which in translation stood for Central Auto Works). CWS started as a small machine shop in 1915, and after World War I it too came under Polish military management. During World War I, under the directorship of Tad Tanski, a Paris School of Electrotechnics graduate, CWS built sixteen armored cars based on the Ford Model T. These were used to fight off the Bolsheviks during the attack on Poland in 1919 when the Soviet aggressors were beaten and a treaty was signed in 1920.
After the war, Tanski designed the CWS Tl automobile along with its aluminum block overhead-valve four-cylinder 3000cc engine, which was tested in 1923. An unusual design feature of the car was that it used only the M8 and M10 screw size (with the exception of the M18 spark plugs) for ease of servicing when tools and garages were a scarcity. Between 1928 and 1931, some 800 CWS cars and light trucks were produced. These included half-ton pickups, ambulances and panel trucks which were all built on the 134.6-inch chassis shared with the convertible and sedan passenger cars.
CWS was a state-controlled enterprise almost from the outset, and by 1928 it was organized under the name PZInz, which was an army branch specializing in telecommunication, transport and repair facilities. Due to the world monetary crisis, which hit Europe as hard or harder than it did the U.S., the Ursus factory went bankrupt and in 1931 was taken over by PZInz. Telecommunication services were moved to another military branch and PZInz took over motor vehicles and transport equipment under the management of Colonel Meyer.
By 1931, PZInz had the Ursus factory under its control as well as the CWS machine shops, an iron foundry and even a shipyard in Modlin. However, the SPA and Berliet designs had been abandoned, and PZInz turned to the Swiss company of Saurer for newer technology. Hipolit Saurer of Saurer Arbon had agreed to sell a license to PZInz in 1930. Together with financial backing, PZInz began building large Saurer BLD diesel engines. These were produced from 1934 until the German invasion in 1939. Most of the engines were used in 7-TP tanks, which were the first in the world to be powered by water-cooled diesel engines.
The large Saurer engines were unsuitable for light trucks, and in 1931 a licensing agreement was established with Fiat to produce both commercial and passenger vehicles. The small CKD Fiat passenger car began to be assembled in Poland in 1934, and in March of 1935, Fiat 621 light trucks rolled off the assembly line in Warsaw. In 1936, the Fiat 508 began production and in 1938 the Fiat 618 light truck appeared; all in Poland under an unusual dealer network arrangement controlled by Italian Fiat, even though by this time all components except roller bearings were manufactured in or near Warsaw.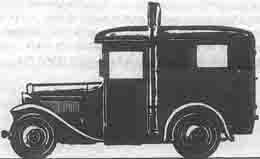 Fiat 508 Radio Truck
In the meantime, the Ursus factory under PZInz was expanded for production of TKS light tanks, 7-TP tanks, TKS artillery tractors and motorcycles. The Fiat factory was also enlarged for the production of Saurer buses, Hawk motorcycles, artillery tractor bodies and tank bodies. By 1936, the Fiat factory in Warsaw was producing 4,500 cars and trucks per year per shift. However, this level of production was still insufficient for real profitability, and that year the government opened the market for new licensee agreements with foreign investors.
The first such concessionaire was the firm of Mechanical Works Lilpop, Rau and Loewenstein in Warsaw. MW LRL had been established in 1820 for the production of railway cars and machinery, but by the mid-1930s business was slow. MW LRL purchased a license from General Motors to build Buick Models 41 and 90 passenger cars, as well as Chevrolet truck models 112, 122, 131, 155 (COE) and 157 and the bus chassis model 183. The Polish State Railways had recently canceled orders so there was plenty of space and manpower. Assembly of these vehicles began in 1937, and aside from batteries and upholstery, all components were imported to Poland with technical assistance from CMC Kopenhagen and CMC Opel in Russelsheim.
The next concessionaire was the Community of Mining and Metallurgical Interests Joint Stock Company, and in 1938 this state-controlled enterprise bought a licensing agreement from the Reichsverband der Deutschen Automobilindustrie. DKW passenger cars and Henschel trucks were to be assembled in Polish factories, and as a pilot run, about 100 Mercedes-Benz 170V, BMW 328 and Steyr 55 were assembled in Southern Poland.
Another license was obtained by FABLOK, the First Locomotive Factory in Poland, to build Renault passenger cars and trucks. This manufacturing facility was located in Southern Poland, then considered the safest location for armament production. The design of the PZInz 703 conventional and 713 COE trucks was being finalized by 1935 since the original agreement with Fiat and Saurer was for a ten-year licensee agreement; therefore, the engineers at PZInz had only so much time to come up with their own specs and drawings. The PZInz factory complex was spread thin due to a diverse approach to transportation and military development, which included aircraft motors, tanks, half­tracks, motorcycles and other wheeled and tracked vehicles.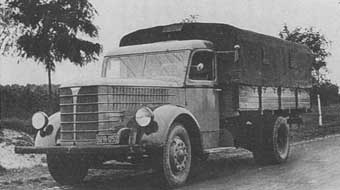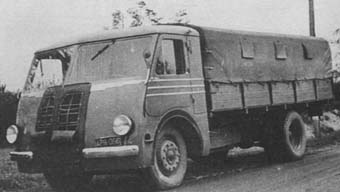 another PZInz 703 truck and a PZInz 713 truck
After much experimentation and testing, the military settled on the Model 703 and 713 trucks, and their respective 4x4 Models 342 and 343 versions. The PZInz Model 713 shared its chassis with the Model 723 bus. Production was set at 12,000 units per year and the state pumped $2.5 million (13 million zlotys) into the effort. The designs were no longer those of Fiat, and by 1940 an all new vehicle design was to be introduced. The sudden German invasion of 1939 and destruction of factories ended those aspirations, but it has been documented that, by that time, 100 PZInz Model 703 trucks were built along with 13,700 Fiat Model 621 light trucks.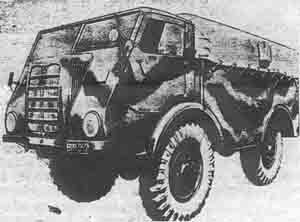 PZInz 703 4-ton truck
Although the mass destruction that took place during World War II in Poland resulted , among other things, in few pre-war vehicles left extant, old vehicles are still known to turn up in barns, warehouses and storage sheds. The Technical Museum at the Palace of Culture has only a few vehicles and motorcycles, but another section of the museum, located nearby on Zelazna Street, also in Warsaw, is a fascinating tour into the past of what little has remained.
This second location is at the Gerlach factory, founded originally back in 1816 by R. Migdalski and taken over by brothers Emil and Gustav Gerlach in 1852. The firm was one of the largest producers of silverware, cutlery, adorned silver trays, spun silver vases and containers and numerous other metal components and fittings up to World War II. Some vehicle production also took place there just before the war, and during the Warsaw Uprising, most of the factory was destroyed. What remains, including the foundry and several small buildings, is an authentic immersion into history that has miraculously remained intact even in a city that was ninety percent destroyed in a country that lost six million people by 1945.
The 180-year history of the factory is elegantly presented in an upstairs room, and the motorcycle collection is not to be missed. This is also where the original (and only) 1947 Star Model 20 truck (see Truck Builders Of Poland: the Years 1945-1995) is being restored and can be seen by the persevering visitor. The Star Model 20 was the basis for several post-war truck models.
Another museum near Warsaw is the Mikiciuk Museum in Otrembusy, a suburb of the capital. The collection there ranges from World War II Studebaker and GMC trucks to a prototype Adler Primus recently found in a mountain shed. The rare vehicle had been left with a Gural highlander by the mayor of Zakopane at the end of the war and was only recently rediscovered. There is a bulletproof Zis used by Stalin and an extremely rare 1930 vintage car called Praga-Oswiecim built in the Polish town of Oswiecim (meaning blessed) which has been better known by the German name of Auschwitz.
continue to part 2: the years 1945 to 1995
---
written by Albert Mroz, first appeared in the May/June 1997 Society of Automotive Historians Journal (No. 168)