Three type 405 power units are currently known to exist, one attached to a Lux-Sport chassis at Muzeum Techiniki in Warsaw, two owned by a Stanislaw Kozmic. The one described here can be seen at the Veteran Cars & Motorbikes Museum (Automobilklub Wielkopolski) in Poznan, on loan from Mr. Kozmic.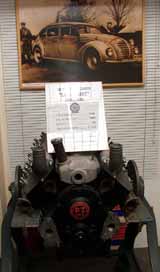 The engine at the museum is located by the entrance
Originally it was rescued in 1979 in a wreck recycling facility in Brwinów, a town near Warsaw. Historian agree that for certain one running prototype of the Lux-Sport has existed, but it is possible there may have been up to five.
The power unit,built in 1936, is a 3888cc water-cooled V8 (90 deg) with side valves and double-barrel carburettor, and a Scintilla 210 W generator/dynamo. Its compression ratio is 6.5:1 and it develops 96 hp, propelling the vehicle to a speed of 135 km/h. The dynamo takes power from valve crankshaft via internal toothed angle gearing. The engine block is cast iron, the heads likely from a light alloy. The rather large oil sump and the black painted inlet pipe are steel welded tin. The atypical cooling system is mostly of thermosyphon (gravitational) type but assisted by two low-pressure water pumps (which mixed/circulated the water in the system).